Our Practice
We are a group of clinical psychologists dedicated to helping our clients improve the quality of their lives.  We specialize in Cognitive Behavioral and Dialectical Behavior Therapies (CBT & DBT) and provide a practical, insightful, present-focused approach to help clients enhance the meaning of their lives.
Dr. Rathus, in collaboration with Alec Miller & Marsha Linehan, is one of the developers of DBT treatment for teens.  The treatment guide for Multi-Family DBT Skills Group written to accompany their original book is now available to all DBT therapists working with children and families.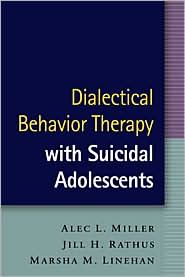 Cognitive Behavioral Therapy (CBT) is a type of psychotherapy that has been proven to be effective in treating many psychological problems.  CBT is usually short-term (often between 6-20 sessions) and focuses on teaching clients specific skills. CBT focuses on the ways that a person's cognitions, or thoughts, emotions, and behaviors are connected and affect one another.
In addition, in CBT:
The therapist and client work together to develop goals for therapy and track progress over time.
Goals include working step by step to resolve present-day problems.
Clients actively participate in treatment in and out of session and often have assignments to practice skills at home.