Our Practice
We are a group of clinical psychologists dedicated to helping our clients improve the quality of their lives.  We specialize in Cognitive Behavioral and Dialectical Behavior Therapies (CBT & DBT) and provide a practical, insightful, present-focused approach to help clients enhance the meaning of their lives.
Dr. Rathus, in collaboration with Alec Miller & Marsha Linehan, is one of the developers of DBT treatment for teens.  The treatment guide for Multi-Family DBT Skills Group written to accompany their original book is now available to all DBT therapists working with children and families.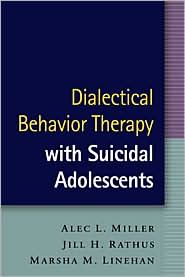 We provide a collaborative approach that includes several key components:


Individualized Assessment
Two part session to determine best approach to meet your needs, identify strengths & current problems.
Multifamily Skills Group:
Teens & Young Adults
Teens & parents meet weekly for a 2 hour group for 20 weeks.  Families learn & practice skills to enhance coping with stress, anger and anxiety, to improve family relationships & parenting strategies.
Individual Therapy
Weekly sessions focus on decreasing painful emotions & behaviors while improving coping strategies & quality of life.
Telephone Coaching
Outside of scheduled sessions, phone coaching is provided during real-life difficulties and crisis situations.
Team Consultation
We work as a team to address each clients' needs & to enhance the quality of care of our clients.
Graduate Group
After graduating from the multifamily group, teens/young adults can meet weekly for an advanced group without their families to support their ability to skillfully address problems & enhance relationships in their daily lives.