Our Practice
We are a group of clinical psychologists dedicated to helping our clients improve the quality of their lives.  We specialize in Cognitive Behavioral and Dialectical Behavior Therapies (CBT & DBT) and provide a practical, insightful, present-focused approach to help clients enhance the meaning of their lives.
Dr. Rathus, in collaboration with Alec Miller & Marsha Linehan, is one of the developers of DBT treatment for teens.  The treatment guide for Multi-Family DBT Skills Group written to accompany their original book is now available to all DBT therapists working with children and families.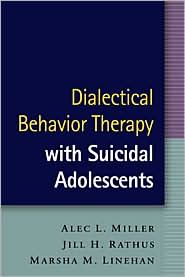 Borderline Personailty Disorder Demystified (2004) by Robert Friedel, M.D.
The Borderline Personality Disorder Survival Guide  (2007) by Alex Chapman & Kim Gratz
The Explosive Child (2009) by Ross Greene
Get Out of Your Mind and Into Your Life (2005) by Stephen Hayes
Helping Teens Who Cut (2008) by Michael Hollander
The High Conflict Couple (2006) by Alan Fruzzetti